I was compelled to set up a file server because my clients maxed out their Dropbox. Originally, they were only sharing about 100MB worth of documents, so, I figured Dropbox was the ideal solution for them. Of course as they got real comfortable, they started sharing folders and moving enormous PDFs, .wav files and videos into the Dropbox. Needless to say, they maxed it out pretty quickly. I could upgrade their Dropbox, but then I'd have to upgrade everybody's Dropbox and at this point there are at least ten different clients accessing the data at any given time. So, a dedicated file server seemed like the logical choice.
After reading Paul Thurrott's review on the SuperSite a number of years ago, I had high hopes for Windows Home Server (WHS) but never had a reason to set one up until now. I was excited to try out a new Microsoft OS and have an always-on dedicated FTP file server to support the needs of my clients in a scalable way. So I did, I grabbed an old Compaq desktop PC that was given to me by a client who called it a "boat anchor" (a 2007 "vista capable" computer that came with Vista pre-SP1 installed on it) and told me to just get rid of it — obviously, I can't do that — so now it is a file server.
I burned the MSDN ISO of WHS to a DVD/RW and began installing it. The installation screen had a strange mix of new and old; it has the same Windows XP installer look, but with some sleeker Windows Vista style informative tidbits. Half way through the installation it displays this oldschool looking DOS installer whereby it installs additional components, on the top of the screen it indicates Windows Server 2003, which WHS is based on. I'm told the stability is amazing.
WHS boots up and makes you do that Control-Alt-Delete thing to get in. I'm told that this is for security reasons, but I can't exactly recall why. VNC lets you execute controls like C-A-D so I'm at a loss. Maybe it's a dated security feature. Once you get to the desktop, you're greeted with a local webpage indicating to you that you shouldn't be using WHS directly, but rather via the Windows Home Console on another computer. Okay, fine, but I have to set all that up first. So, thanks for the premature warning I guess, Microsoft.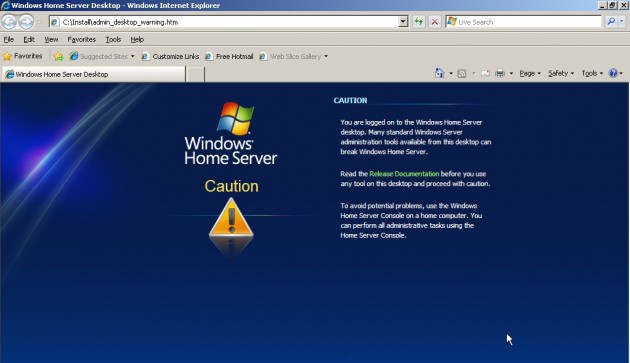 So, I close the awkward local html file warning page. Looking around, it looks like Windows XP, except a little off. The start menu is missing a bunch of stuff like on those heavily restricted public computers. All of the visual niceties have been disabled, so when you drag windows around there is that oldschool outline, Windows Classic theme, no fading/sliding on right-click, shadows, etc. It looks like Windows 98, XP and Vista all at the same time. And since it's a server, that's fine, however I thought that this OS was meant for somewhat novice home users to configure on their own? If that's the case, then this whole thing definitely falls short in the ease of use/configuration category.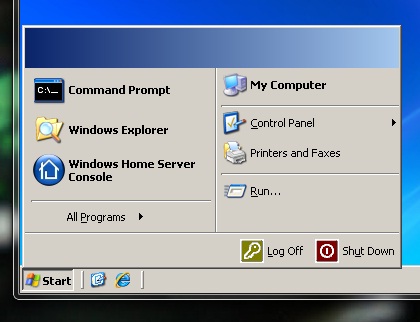 So, to begin, I click Windows Home Server Console and a wizard takes you through the steps of setting up the Console. It was simpler than I expected, considering the awkward and unfriendly UI experience it started with. Once it got to the remote access and Internet accessibility of the Console, however, things came to a halt. Cleverly, WHS tries to enable UPnP (Universal Plug and Play) in your router to make things easy. However, just like with ActiveX, UPnP was/is the cause of many security exploits and malware so by default, many routers have UPnP disabled — including the one I am using. So, I enabled UPnP on this Netgear router and then the wizard was able to proceed, however, it still briefly flashed that orange exclamation mark icon before stating that everything was A-OK and later on down the line it would tell me periodically that remote access functionality wasn't working. To fix it, I would click repair and it would show me a spinny wheel for a while, then, somehow, it would be fine… for a while. Fortunately, I don't rely on gimmicky "remote access" hubs/add-ins, I use the real deal: UltraVNC.
So, having read a great deal about WHS, I know what it's meant to do and I elected to use it because I've heard such great things about the stability of Server 2003/2008, and since WHS is based on Server 2003, I figure that's as stable as it's gonna get. Also, the Console has a terrific quasi-RAID feature called "Folder Duplication" which will automatically make extra copies of whatever folders you select to a second drive installed on the server. That's pretty awesome, especially since the "server" I am using is just a plain Compaq desktop with no onboard RAID.

After trying to set up my FTP server using FileZilla, I decided I wanted anti-virus protection because I don't necessarily trust that my clients are going to always be using updated anti-virus software themselves. So, I went to download Microsoft Security Essentials (MSE) only to learn that Microsoft doesn't support their own operating system, Windows Server 2003/Windows Home Server! So, I started looking around for other choices and was surprised to find a very limited selection. Still wary about WHS, I elected to go with a free a/v, ClamWin and see how that goes.
The Console has an "add-ins" section where you can extend the functionality of the Console with all sorts of third party extensions like audio-streamers, sync tools and anti-virus utilities. Installing ClamWin was, in a word, awkward. That's fine, since it's free and clearly stated as a work in progress by the author. Nevertheless, the fact that Microsoft doesn't support their own MSE on their own operating system is very odd. WHS shares so many similarities to XP and I can't imagine it would take much to make it work on there.
So I performed a virus scan with ClamWin. I didn't have a very reassured feeling about the whole thing. In the terminal-like window it told me that my version was out of date, but not to panic (?). I went looking for a newer version and was unable to find it. Awkward.
Setting up FTP was difficult. I kept getting inconsistent results. It would connect fine on some connections and not others. VNC also presented an issue, it suddenly stopped working at one point providing me with a vague error message: "End of stream." In six years of near-daily VNC use, on dozens of computers, I've never gotten that error message. I wasn't using any of the Console features, anti-virus was awkward, FTP was inconsistent, VNC no longer functional — I reformatted & installed a standard Windows XP installation to see if it would better suit my needs.
Maybe not so surprisingly, after I disabled a bunch of unnecessary services, installed a hundred updates, and stripped everything down — my standard XP installation was more reliable and I was able to get everything (FTP, VNC, A/V) working and stable in about twenty minutes. To keep overhead as minimal as possible, I didn't install any graphics drivers and disabled everything that wasn't being used such as serial ports, audio drivers, etc. 800×600 resolution. Very easy to administer. Note the locked LAN IP ".45" and custom port 8888 to make room for other systems on the same network to use VNC: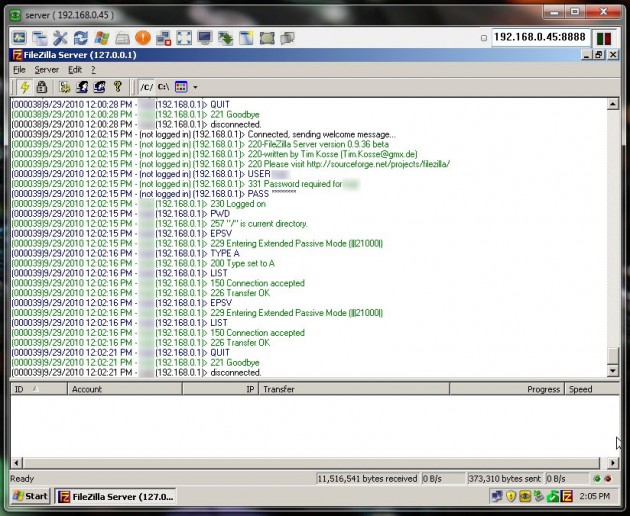 You cannot easily split an Ethernet jack the same way you can split a phone jack. So, I was at a loss for where to physically place the server. I decided to place it inside a box designed to house the modem/router and switch for the whole floor: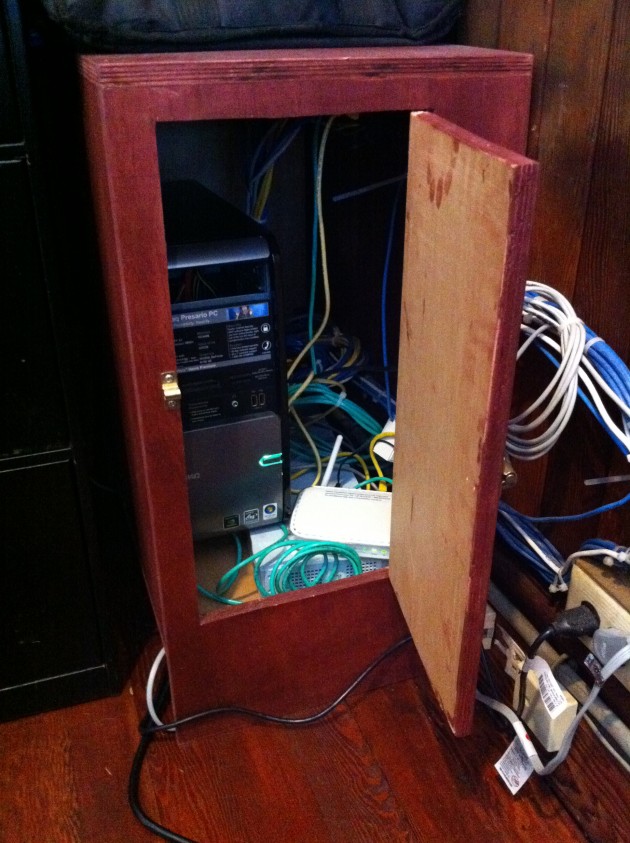 Problem is, since there's no ventilation in the box, the server slowly started to bake. Not as hot as I was expecting, but when I saw the little flame icon on SpeedFan I decided it was time to move the server.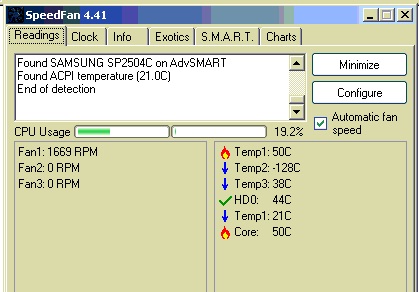 So, because each area of the floor only has one Ethernet jack, and they are all being used, I used a spare 16-slot rack-mounted switch & used that to split the Ethernet between the copier & server. The switch seems like overkill, but I didn't have anything simpler or smaller to use. The temps are now stable at ~44°c.
So, WHS would be fine for other purposes I suppose. It's designed to be this all-in-one hub for your LAN so that users can have auto-backups and easily accessible media. I can't help but feel like it's a stretch to expect the average user to set up something like this. I almost found it easier to set up the FTP server than to configure the WHS Console to be stable. Because it relies on UPnP as the default configuration method, it provides very little information on which ports to forward and doesn't stress any importance on anti-virus protection. I'm betting that the UPnP will fail on 19/20 routers unless UPnP is explicitly enabled. Moreover, because everything is configured via the Console, why is the underlying OS Windows Server 2003? That Console application I'm sure could easily be ported to run on Windows XP, Vista or 7. It seems all seems very basic, yet overly complex for the average user — which it seems to be designed for. I think Microsoft can do better. I gotta wonder who is taking notes at their focus groups.
If you're curious to try out Windows Home Server, and I know you are, Microsoft offers a 30-day trial of it.