Someone in my family, with good intentions I'm sure, decided to give my dear grandmother a free Yahoo Mail account to replace her digit-ridden CompuServe e-mail address. I felt compelled to write this because as I was over at her house, she informed me that she hadn't touched the computer in two weeks and for me to "clean out the junk." I went ahead and logged into her e-mail and was shocked to see that her inbox had well over 2,000 messages! I knew that my grandmother likely didn't have more than 10 or 20 real messages in there, but thanks to Yahoo's brilliant SPAM detecting algorithm, I'd never know. I began sifting through the messages, deleting 25 at a time. After the tenth or eleventh page, I grew weary of looking at all of the SPAM that Yahoo failed to capture and decided enough was enough. Grandma was gettin' Gmail (spam chart).
Below is a screenshot of my Grandmother's old computer, a Windows98 system running Internet Explorer 5. Click to see the full sized screenshot. Evidently, Yahoo thinks that only 75 out of the 2,000+ messages are SPAM.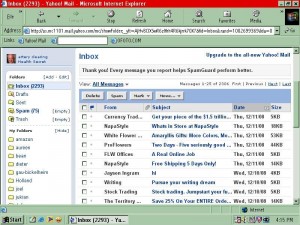 (screenshot of Yahoo Mail, left untouched for two weeks, overrun with SPAM)
Back in the 90's, I avoided Yahoo and used search engines that I felt delivered more relevant results, like MetaCrawler (1998 archive) and WebCrawler (1996 archive) (don't laugh). It's been five years now, and I can still remember the oh-so-generous 2MB mailbox limit of Yahoo Mail and Hotmail. It was only until their hands were twisted by the extreme force of Google's Gmail that they finally stepped up their game.
All throughout the 90's, I remember avoiding Yahoo Mail because it was clear to me that Yahoo was far too fixated on intrusive advertising than their core search technologies. Moreover, the idea of having my domain be that of the most popular search engine at the time irk'd me. Yahoo was supposed to be a search engine, not an e-mail provider. Either way, their popularity snowballed as they ensnared users over the years. It became the easy choice, evidently.
Every now and again I'd give Yahoo a chance; somebody would invite me to a Yahoo Group or something and I'd register a Yahoo account to see how they've kept up with the likes of Google or Microsoft and I'd be disappointed every time. Their site always has something which takes me back in time to the mid 90's, some archaic, primordial script limiting me to the number of images in a discussion thread (I think that was it, maybe a limit of size) or something else.
Say what you will about Microsoft. Yes, they made IE6 and IE7, destroying web standards and left a security nightmare for an untold number of computers with WindowsXP pre-SP2. However, from time to time, their innovation has held strong, a few things that come to mind are: Microsoft Surface, the XBOX, photosynth,  Live SkyDrive, Seadragon and Office 2007.
Yahoo, on the other hand, seems to have managed to do absolutely squat in the meantime. The fact that Yahoo is still trying to pedal their Yahoo Mail Plus in 2009 is really laughable. They offer $10 per signup if you partner up with them via Commission Junction. Who, exactly, would ever pay for Yahoo Mail Plus in 2009?
Let's focus on what the free version lacks, since it's what directly competes with the likes of Gmail now five years after its launch in 2004: (1) no POP3; (2) no IMAP; (3) no email forwarding; (4) no integrated chat; (5) none of the dozens of Gmail Labs features — it should also be noted that even their paid "Plus" version doesn't include IMAP functionality. What the heck? Couldn't afford any programmers in five years to get that done? Don't the three people who do pay for Yahoo Mail Plus complain about that? Moreover, because Yahoo bifurcated their webmail to consist of the "Classic" and their newer version, many of their features fail and require the UI to revert to the "Classic" version in order to function, like the Yahoo calendar — which, by the way, doesn't support any standards for calendar import/export formats. What year is this again?
Wait! But doesn't Yahoo own Flickr? Sure, but they sure as heck didn't invent it — they bought it. Sure, other companies buy one another all the time but it seems that Yahoo is the undisputed king of resting on their laurels and using inertia to propel their success from the 90's. Yahoo, in many respects, reminds me of Symantec makers of Norton Anti-Virus.
Stop using Yahoo Mail, get Gmail or something, anything other than Yahoo Mail. Questions? I'll be right here:

Related articles: Fight SPAM;FTC on SPAM