Update: See our Top 5 Free Online Storage Reviews (11/1/2010) for more cloud storage goodness.
I've been in search of truly unlimited online storage for quite some time. I don't mind paying, as long as it's really unlimited. In my quest, I've come across a wide variety of services that fall short of their claims because they require the use of a proprietary client to facilitate the backups, thereby effectively making an online RAID 1 mirror. The catch is that if you delete something on your local machine, it will be deleted (typically within thirty days). So, they're obviously not too worried about you using too much space since it is unlikely that you'll have 100TB of data on your machines.
Nevertheless, Livedrive also offers a "briefcase" feature that essentially functions exactly the same as Dropbox, except with unlimited online capacity which is a very good deal if you were in the market for that. Aside from that, I'm going to dive right in and see if Livedrive can offer me with the kind of online storage that I require. I'd like to be able to upload a 250GB Acronis True Image .TIB file, for example… we'll see if Livedrive can fill my needs.
Installing the Livedrive client is simple, though requires a reboot.

After the reboot, Livedrive starts up automatically and prompts you to login with the account you already registered online. There is no e-mail verification, though signing up for the free trial does require your address and phone number.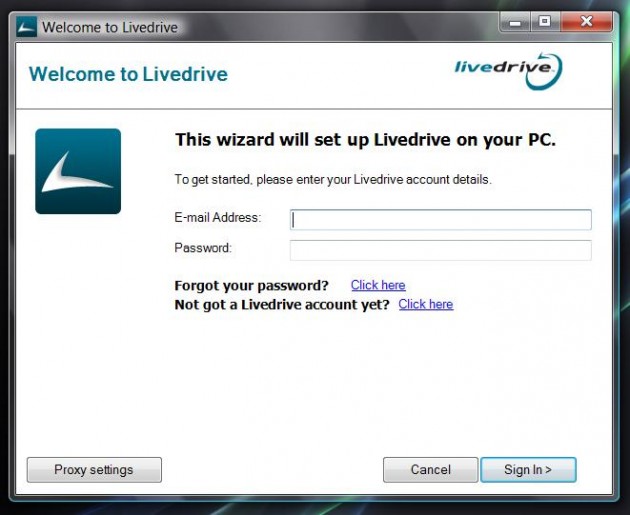 Thereafter you enter in your computer name, and then choose which folders to backup via a simple checkbox UI. The defaults are Documents, Pictures, Music, Desktop, Firefox Settings and "Favourites." There is a button to "Add Folder" as well. A little window shows how to set Livedrive to backup new folders via right-click.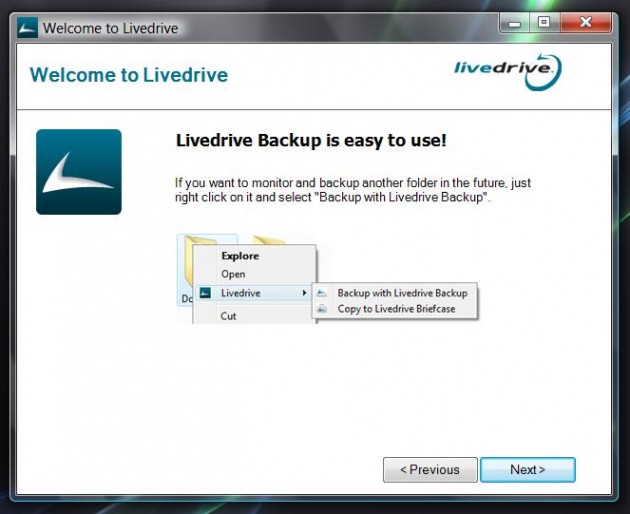 So far it doesn't look like I'll be able to upload a massive 250GB .TIB file and leave it there "backed up."

I right clicked on a folder to add it to "monitoring" and sure enough it lets me know that it will auto-backup whatever changes I make. Unfortunately, there is absolutely no way to make a one-way archive/backup or a single file without having it be a "monitored" or "mirrored" folder existing on both the local computer and the Livedrive servers.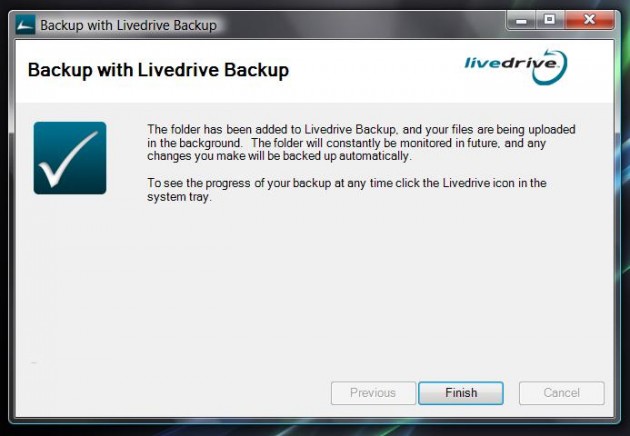 Disappointed, I signed up for the Livedrive "briefcase" which enables an "L:" drive which is accessible via any PC you link up to it. During the initial pitch, it said that you could upload files directly from the web UI. I realized shortly thereafter that whatever you upload must also stay synced to whatever PC you have set to have an L: drive, so you cannot have the data reside only in the cloud. Moreover, there doesn't even appear to be a way to upload files directly from the web UI in the Briefcase. I can make a new folder, but that's about it.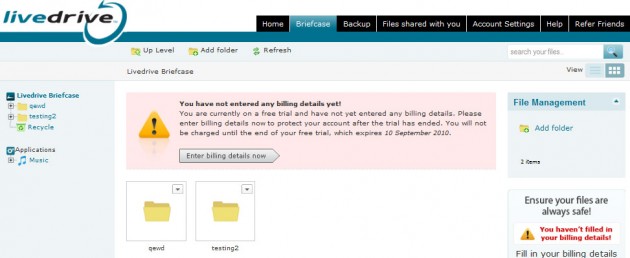 What bothers me about this is that it isn't a true "backup service" in the sense that I cannot take a full image of a massive PC and then keep it in the cloud. No, instead I have to use their provided client and keep the image in both places. I can appreciate the convenience, and I can see how this tool is useful for most people, but I wouldn't recommend it for those who are technically inclined. We'll need to look elsewhere. That's too bad.
Sam
admin@variableghz.com