I've got a lot of data. For me, storage is critical. As I mentioned in my previous article on how to archive large files on SkyDrive, sometimes I want to move files to the cloud for an extended duration of time or permanent archive. It's good practice to keep a copy of critical data off-site to prevent against theft, fire, earthquakes, human error, and whatever other paranoia you can come up with.
So, since you're being cheap and searched for free online storage reviews, here are the current best 5 free five online storage services:
1. ADrive.com – 50GB, 2GB upload limit per file
The most surprising thing about ADrive is that they're still around. I cannot count on one hand how many times I've seen gigantic free online storage services disappear within months after making their debut. ADrive has been around since 2007 and hasn't disappeared yet. You get 50GB with the basic plan, but the real icing is the astonishing 2GB per file limit. SkyDrive gives you a measly 50MB in comparison.
On my server, (yes, the one I had the awkward Windows Home Server experience with) I decided to keep a small, heavily compressed backup Acronis True Image .TIB archive on a spare 4GB SD card set to run once per week in addition to the master backup image which runs nightly. I did this mostly for fun, but also just in case someone deleted or overwrote a file by mistake from the server during the week, I'd be able to recover it using this little extra backup measure. Because of ADrive's incredibly generous 2GB file limit, I was able to upload the entire compressed .TIB file to their servers, but even if it gets too big, I could simply split the archive.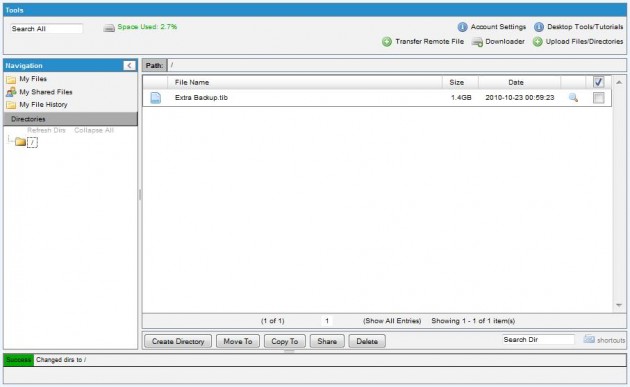 One final thing: ADrive allows two ways to upload files. You can use their simple Java uploader, or, if you prefer, their "basic uploader" which requires nothing but the browser. I elected to use the basic uploader so that I could keep my server free of potential exploits in Java or Flash.
Ever since Microsoft unveiled this service back in 2007 (then called Windows Live Folders), it underwent several changes while Microsoft experimented with their ongoing cloud strategy. Initially offering just 5GB, they dramatically boosted the storage in late 2008. It should come as no surprise that that is when I became interested in the service.
SkyDrive makes #2 because they, like ADrive, have thus far withstood the test of time and it's being run by Microsoft, so if they decide to close the service you will likely receive a grace period to remove your files before they are purged forever. Unfortunately, SkyDrive only allows for 50MB per file, which is understandable considering the impressive sharing tools they provide and the fact that they are hardly making any money with the service (there is no ability to "upgrade" or to pay to remove the ads). I work around this limitation by splitting large files with WinRAR, but it's certainly not ideal.

3. iDrive – 2GB 5GB (up to 12GB 50GB), no filesize limitations
I use iDrive as a simple backup utility on many of my client's systems. It is very easy to configure and quick to get up and running. Most importantly, it's mostly silent. There's very few prompts, and amazingly no nag screens (even when you exceed the free space). Evidently, you can also increase the 5GB free limitation to as high as 50GB (!) by simply referring your friends to iDrive, they don't even need to sign up. If you have a relatively small amount of data, look into iDrive first as a painless, simple, fast, reliable real-time backup solution.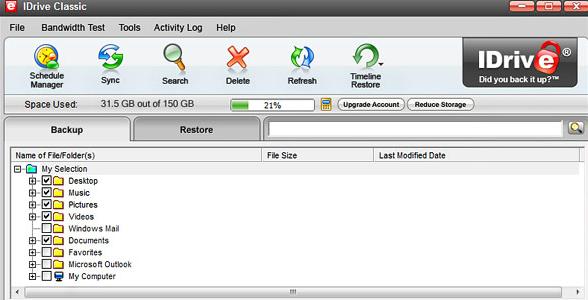 4. Uploadingit – 20GB, 200MB upload limit per file
This is an interesting service for a few reasons. They currently only offer a free plan with no possibility to upgrade yet; their website says to check back soon. Secondly, they offer a very generous 20GB of storage, 200MB upload limit per file, advanced interface chock-full of features but there is one very real downside to Uploadingit — and that's their expiration limit. Presently, if you do not keep your account "active" by logging in at least once every thirty days, they will flag your account as "inactive" and delete all of your files — all 20GB. Good news is they notify you via e-mail 5 days before doing so. This may change in the future as this service seems to be undergoing numerous changes.

5. 4shared – 10GB, 200MB upload limit per file
4shared is similar to Uploadingit: advanced feature rich web interface, large capacity, relatively large 200MB per-file upload limit. Unfortunately, the 30 day expiration is also similar to Uploadingit. All of your files will be deleted within thirty days if you do not log into your account. 4shared also has a desktop utility which you can use at your option for more advanced features such as suspending and resuming uploads/downloads.
They used to offer 15GB for free, but they since reduced it to 10GB. If the 30 day expiration limit hasn't scared you away, then 4shared is as good a place for your files as Uploadingit.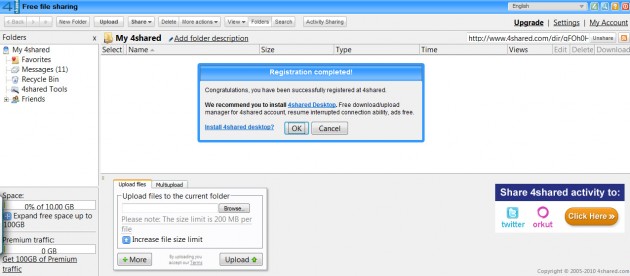 Due to reseller programs offered by a myriad of large providers, there are dozens if not hundreds of services that are remarkably similar to one another. It's important to read all of the fine print and terms of service for each service you intend to use, especially if you intend to trust it with sensitive data or else you may not notice something like the above mentioned expiration dates.
admin@variableghz.com