All of my years of experience with proxies doesn't much help those who want the benefits of a proxy, yet don't have the technical wherewithal to accomplish it. As such, I set out in search of a sure thing, a foolproof proxy that anyone could use with minimal setup. I was surprised to find Vidalia.
Vidalia has proven by far the simplest (free) proxy solution. By GUI-ing Tor & combining a Torbutton for Firefox, it couldn't be simpler. Here's how to anonymize your Internet activity in just a few minutes.
– Go to www.whatismyip.com and take note of your IP address.
– Go to the download page.
– Select the Installation Bundle for Windows.
– Install with default options. Install the Torbutton extension for Firefox. Restart Firefox.
– Let Vidalia connect — it should connect in about 10-15 seconds.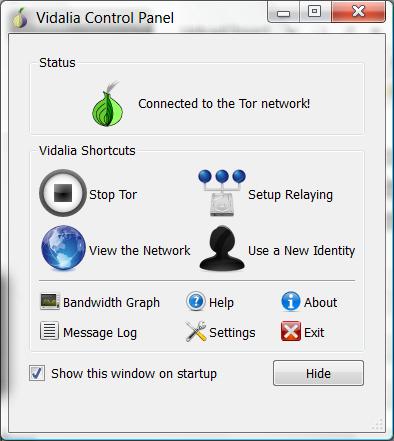 – In Firefox, go to View > Toolbars > Customize; find the Torbutton icon, click and drag it somewhere to the right or left of the address bar. Single click it to enable Tor. At the bottom right it'll say "Tor Enabled" in green.
– Go to www.whatismyip.com again to verify that you are indeed browsing via another IP address. All done.
In my experience, performance has been acceptable — not blazing fast, but not entirely sluggish either. I've read that it is horrendously slow for some, your experience may vary.