I have recently replaced my TX1000 with a TX2500 and despite a few little hiccups during the setup, I am very impressed with the improvements.The TX2500 is solid, light and sports a real touchscreen with wacom pen. Battery life is quite good and I recommend setting the power mode to "Balanced" rather than the standard "HP Recommended" that ships with the unit and manually adjusting the screen brightness to your tastes.
Physically, the TX2500 varies very little from the TX1000, where the major improvements lie are in the touchscreen and performance. My feeling about the TX1000 was that it was drastically underpowered and not up for the challenge of running Vista. The TX2500, however, feels powerful, balanced, and runs cool to boot.
The screen is very reflective, but no more so than the TX1000 which I got used to very quickly. It's not a big deal after a little while. The touchscreen works quite well both with the wacom pen or direct touch. Here is a poorly made video demonstrating the TX2500 touchscreen:
Specs:
– Windows Vista Home Premium (Service Pack 1 (32-bit))
– AMD Turion(TM) X2 Ultra Dual-Core Mobile Processor ZM-84 (2.3GHz)
– 12.1″ diagonal WXGA High-Definition HP BrightView Widescreen (1280 x 800) w/Integrated Touch-screen display
– 3GB DDR2 System Memory
– ATI Radeon(TM) HD 3200 Graphics
– 250GB 5400RPM SATA Hard Drive
– Webcam + Fingerprint Reader with HP Imprint Finish (Echo)
– Wireless-N Card w/ Bluetooth
– DVD/CD drive, LightScribe SuperMulti 8X DVD+/-RW DL
– 6 Cell Lithium Ion Battery
This neat little Flash intro plays after booting the computer up for the first time.


However, in typical low-end PC fashion, HP tries to force Norton on you and the fun stops there.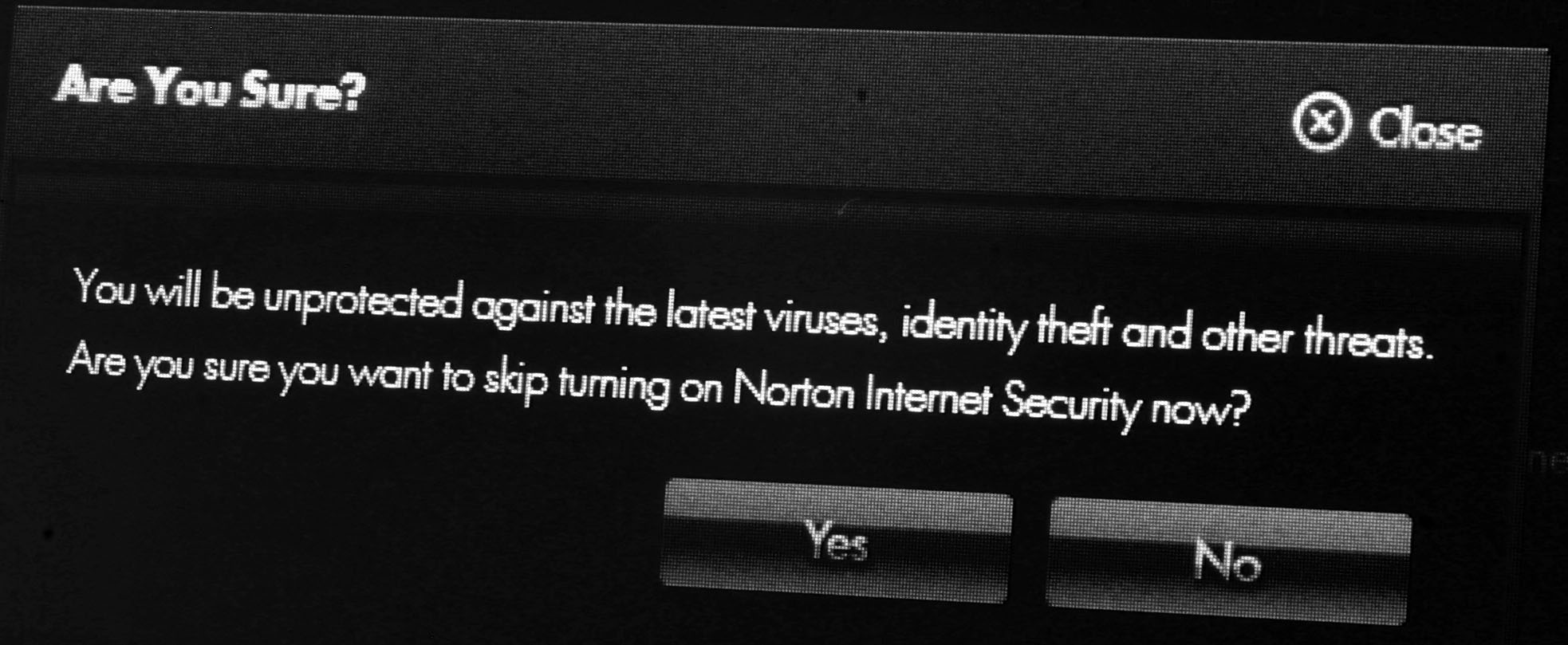 Bummer. I clicked Yes. If there was any company I'd like to see fail, even more than GM, it would be Symantec.
I timed the initial set up of the notebook just for fun, results were 26 minutes, 13 seconds until I had a working desktop and the hdd stopped thrashing.

Few more photos of the unit:


After the computer was up and running, I uninstalled the following: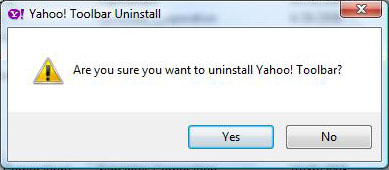 Yeah. I'm sure.
Viewpoint Media Player
SlingPlayer
Slingbox Flash Tour
QuickPlay SlingPlayer 0.4.6
Cyberlink PowerDirector
Cyberlink Power2Go
Norton Internet Security
My HP Games (WildTangent, must uncheck every one individually)
muvee autoProducer 6.1
Microsoft Works
Microsoft Office PowerPoint Viewer 2007
Microsoft Office Home and Student 2007
LiveUpdate
HP Update
HP Smart Web Printing
HP PhotoSmart Essential 2.5
HP Help and Support
HP Customer Experience Enhancements
CyberLink DVD Suite
Compatibility Pack for the 2007 Office system
Adobe Reader 8.1.0
Activation Assistant for the 2007 Microsoft Office suites
Then…
Installed 37 Windows Updates
Restart. Received the following error message:

Oh no!
Error automagically solved itself.
Install 6 more Windows Updates.
Received this error message: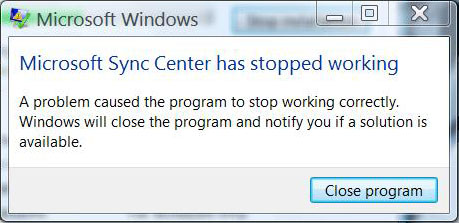 Then…
Set IE7 homepage from hp-laptop.aol.com to google.com
Set IE7 search default from Yahoo to Google. Remove ask.com and yahoo permanently.
Restart.
Install 3 more Windows Updates.
Restart.
Install 2 more Windows Updates.
Restart.
Disabled UAC, set DPI to 120, disable automatic Windows Defender scans.
I was a little troubled by the number of processes running by default:

83 seems a bit high.
Using Windows Defender's Software Explorer feature, I disable the following from starting automatically:
bttray.exe
sm56hlpr.exe
qpservice.exe
MUIStartMenu.exe
HPHC_Scheduler.exe
HPWAMain.exe
Installed the following programs:
Avast! Anti-Virus
Firefox
CCleaner
Google Chrome
Microsoft Office Professional Plus
… and that's about it. The system is stable, good to go. I won't go into details about heat and speed because other reviewers have documented that already. What I hadn't seen was many photos of the unit until now.
Technical details/more reviews are over here, and here.
admin@variableghz.com