You've been brainwashed. Brainwashed by clever marketing and the classic underpromise-and-overdeliver strategy employed by Microsoft to fix the mistakes they made with Vista.
I know, I know, everyone told you Vista was bad. You maybe even used Vista pre-SP1, on a "Vista Capable" machine way back when it launched and concluded that it was horrible. Or, maybe you heard all the bad press and skipped on it altogether? Stuck with XP, then switched straight to 7. Is that what you did?
Well, regardless, I am convinced that Vista is the superior operating system. So vastly superior, that I am going out of my way to ensure that it replaces all the systems that I have been tricked into installing Windows 7 on. At work, at home, and for my clients. I am going to make an argument in this article as to why I believe that Vista remains superior.
I challenge someone to list 7 reasons why Windows 7 is better than Windows Vista. Actual reasons. "Features" like Aero Snap, Jump Lists, and the new taskbar do not necessitate an entirely new operating system, so they don't really count. Those could easily be implemented into Vista, if it were not abandoned in the wake of Windows 7 by the new CEO, Steve Ballmer. So, we begin with a mini history lesson:
Windows Vista was a major disaster. Microsoft suffered from heavily over promising on features (remember WinFS?) and failing to live up to their own hype; and they really hyped it up. Naturally, normal people don't care or know when a new Microsoft operating system is launched, but the tech community does. So, to over-promise and under deliver, and miss your self-imposed deadlines again and again, the disappointment becomes palpable.
At the time, 64-bit processors were becoming more ubiquitous, and Windows XP 64-bit Edition had a plethora of issues with drivers and was not widely adopted — so they were under immense pressure to release the OS.
Vista Beta 2 came out in 2006, and it was an absolute disaster. If you looked at it funny, or moved the mouse too quickly, it would crash. It was completely unusable, but Microsoft insisted that it was intentional, and that they were planning to fix all of the bugs at once, at the end, prior to RTM. They did, although there was still the issues of heavy disk I/O in the final RTM as well as a large number of driver issues in the final versions.
Much of the problems with Vista stemmed from an overzealous Search Indexer, incomplete drivers from third party manufacturers, UAC, and underpowered systems. RAM was still moderately expensive at the time, and Vista did not work very well with only 1GB, which was common on low-end systems.
After Beta 2, Microsoft shipped release candidate versions and finally the RTM. They continued to fix all of the issues rapidly, releasing patch after patch. All the while, Vista was hammered in the press, blogs and forums repeatedly for problems stemming from the aforementioned.
This negative press was not without merit. Vista was truly very slow, and despite the improvements, they felt minor in the face of a computer that was so severely hampered. Especially when the computer was branded as: Vista Capable.
Finally, with Vista Service Pack 1 (2/2008), the operating system became relatively stable, and performance was drastically improved. However, plagued by the hasty launch, not enough enticing features over XP, and an insipid ad campaign ("the wow starts now"), there were very few who gave it a second review.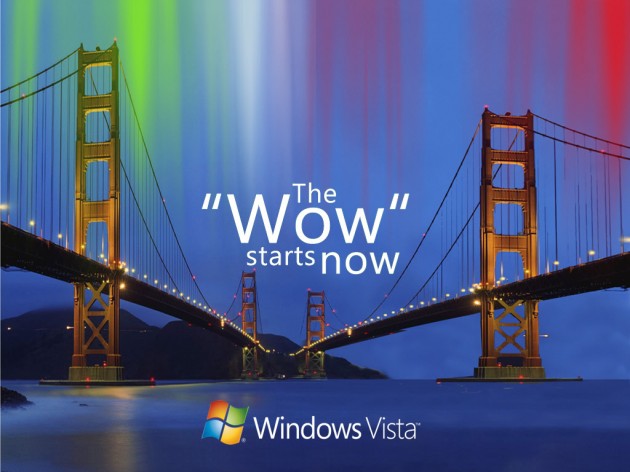 Microsoft later attempted to "prove" that they had fixed Vista with the Mojave Experiment, in which they secretly video taped people who had heard that Vista was bad, and had them interact with a supposed "new" operating system codenamed "Mojave." Evidently, over 90% of the participants thought it was great and an improvement over XP and/or Vista, and expressed shock/surprise when informed that they were actually using regular 'ol Windows Vista. Of course, bias is to be expected.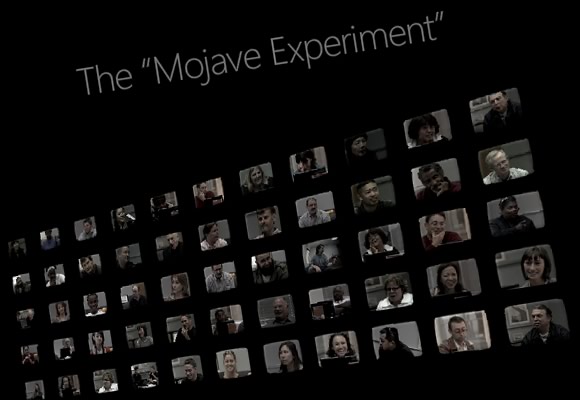 After the release of Service Pack 2 (4/2008) and subsequent updates, performance continued to improve and was on par, or superior to that of Windows 7. None of this ever made it to the press because Windows 7 was under-hyped, under-promised and over-delivered by releasing early, since Microsoft learned their lessons with Vista. Moreover, Microsoft's "I'm a PC" ad-campaign for 7 was well executed.
So, what's wrong with Windows 7? Why have I become so negative about it? Here's 7 reasons why I think Windows 7 is a downgrade from Windows Vista (asterisks denote a subjective comment):
1. Windows 7 removes features

What's missing? Well, where'd the QuickLaunch go? Oh, right, it got consumed into the massive start menu. Where'd the Show Desktop icon go? Moved, to the right hand side (this drives a lot of people batty, believe it or not). Windows Mail, Photo Gallery, Movie Maker, DreamScene, just to name a few, no longer come with the OS, they have to be downloaded manually with "Windows Live Essentials" (except for DreamScene, which is totally gone…why?!) — this is not an improvement by any means, just gives the illusion of "less bloat." But don't worry, you can put the QuickLaunch and Show Desktop button back — it's just not exactly all that easy to do.
2. All system tray icons are hidden by default
Is this a problem? I think it is. Microsoft's attempt to unclutter the taskbar by hiding all third party systemtray icons is a nuisance. How many times have you had to try to explain to someone to "click the little arrow to the left" over the phone to a client, family member, or friend? Hiding all systemtray icons does little in the way of solving the "problem" of the systemtray. As a result, I often find myself just showing all icons on the systems I administer and repair.
3. Libraries
After much annoyance, I finally get libraries. I understand why they exist. I even think it's a semi-cool idea … but it doesn't work. Try and copy the path of a file you're looking at within a Windows 7 Library into another Explorer dialog box. Go ahead. I'll wait. What's that? You can't?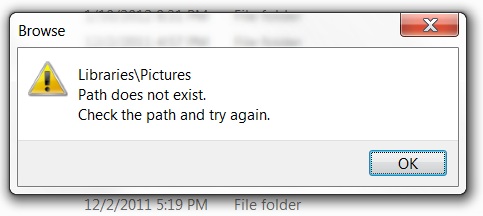 Well that's aggravating because everytime you click a shortcut like Music on your start menu, it takes you to the music Library, even if you just have one Music folder! Can you replace the shortcut on the Start menu to go directly to your Music folder? No. You cannot. I won't add a separate section, but HomeGroups annoy me in a similar fashion. I'm sure they're great for some people — but in general, I just get a lot of "what's homegroup?!" from people trying to do very basic filesharing across their networks.
4. Windows Media Player 12
Have you used Windows Media Player 11? It's pretty simple to use. Yes, the defaults are still annoying, but the interface is vastly superior. Try it yourself. Use WMP 11 and then switch over to v.12 which comes with 7 and see which makes more sense to you. The illogical layout of the software is mind boggling to me. This isn't exactly a Windows 7 issue per se, but since Microsoft made a specific decision to remove WMP 11, I find it worth mentioning. Also, it looks like you can fix it here.
5. Search
This, for me, is the real trouble with Windows 7. In Windows XP, you can download the optional search indexer from Windows Update. Its heyday was really with the search add-on version 2.0, which was an extremely precise search indexer that you could control with a decent amount of precision. In Vista, Microsoft took it to the next level by deeply integrating the indexer and the UI throughout the operating system. Vista's search solution, once the Indexer was optimized with SP1+, is very powerful and incredibly easy to fine tune. Observe the control you can exert over your search in Vista: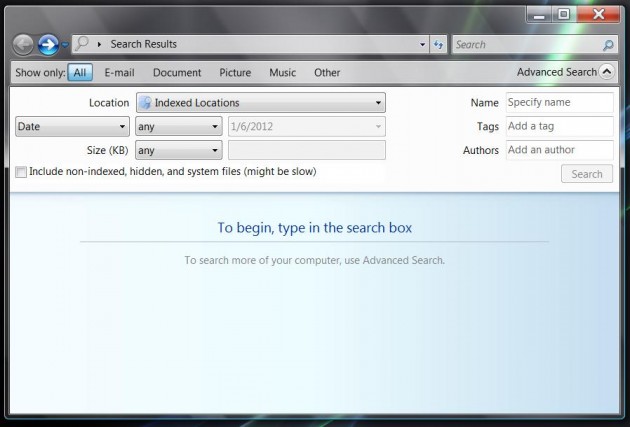 Now, let's juxtapose this with Windows 7's search "improvements":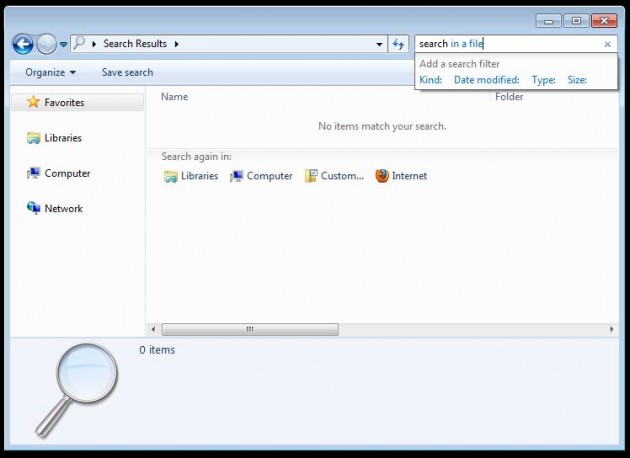 So, here is what I can't do with Windows 7's search:
– Force a search in a non-indexed, or partially indexed location. So, let's say you just added a folder and want to do a quick search in Windows 7… you can't, because the indexer hasn't caught up, and you cannot force the indexer to start on command. So you're screwed. This is a constant problem that I run into all the damn time.
– Change the search path without first performing a search, and then scrolling to the very bottom of the search results. Who was the genius who designed this?
– Perform complex filters quickly. In 7, I have to use that awkward drop-down menu to manually select each filter, and then scroll back to the left to change my search parameters. This is incredibly cumbersome and unintuitive. Totally fails the grandma test. In Vista, if I want to find a song, I just type one word of the song and then click the "Music" button and bam — it appears immediately.
– Inconsistent search-related glitches (see also Bugs, #6, below) which for whatever reason cause known search results not to materialize. Video evidence of this that I documented is here, on a fully patched, legally licensed, MSDN version of Windows 7 Ultimate. I'm not the only one complaining, either. This is a real problem that simply didn't exist before 7.
– Oh, and see how the text becomes blue in the search box once I type the word "in"? Well that's because Windows 7 thinks that I am using a search "operator," and thus it is not returning any results. If I type the exact same search query into Vista's search box, it would return results. In order for me to make 7 search for the word "in" I have to put it in quotes in order to "tell" 7 to search it, and not to use it as an operator. Do you think your clients are going to figure that out? I doubt it.
6. Bugs that never get fixed

Microsoft has the capability to fix problems. They proved that with Vista. In my years with Vista, I observed Microsoft fix the operating system relatively quickly. Each problem slowly disappeared, and by the time SP2 hit, nearly everything that was a concern vanished. Yet somehow, that isn't happening with Windows 7. My biggest #1 problem with Windows 7 is the Explorer refreshing bug.
Have a look at that link. You'll find that this is a bug that has persisted throughout every single version of Windows 7, and despite innumerable complaints, it isn't fixed. Windows 7 launched in 2009, and it is now 2012 — it remains unfixed, and inconsistent. I have lost track of how many times I have had to explain to clients that the reason why the file that they saved to the desktop/folder isn't appearing is because it sometimes won't refresh automatically and that they have to right click and hit refresh or press F5. Of course, F5 won't work on Microsoft keyboards because you have to first press F-Lock to enable standard keyboard behavior. This is aggravating, and Microsoft appears unable or unwilling to fix bugs of this magnitude, despite their brilliant engineers on staff.
Other bugs are equally frustrating. For example, after installing a completely legal MSDN version of Windows 7 Ultimate, with keys from Microsoft, activated and operating for a few months, Microsoft released an optional hotfix to determine if your specific instance of Windows had been illegally activated. Since mine were not, I installed the patch on a couple systems that I had running at the time. After restarting, they were flagged as counterfeit copies. After calling, Microsoft double checked the keys and could not determine why they were being flagged as counterfeit. So, I had to manually remove the hotfix to get my legal copies of Windows 7 working normally again. Moreover, I then had to set all the computers to not automatically download updates because with Windows 7, you are forced to install downloaded updates when shutting down. You cannot bypass it as you could in Vista. This "problem" resulted in my having to unplug the systems that had downloaded the updates so that they wouldn't install the broken hotfix.
There are of course many more, but those two are what come to mind.
7. Taskbar & Explorer changes

The Windows 7 taskbar is subjective. Some people like it just fine, and some detest it. I fall in the middle. I find the auto-grouping to look nice, but irritating as it slows me down. I find the missing quicklaunch, and the auto-hidden systemtray icons problematic, but we've already discussed that.
The "Lock" button on the start menu is missing in 7. It is now located under the ">" arrow to the right of Shut down. There's no particular reason for this change that I can see. The "change view" button is unintuitively* located on the right side of the Explorer window, rather than on the left as in Vista. No reason I can think of as to why this was changed, and there's no ability to customize it.
The Windows Calendar is gone from Windows 7. It came with Vista, but they removed it — but you can go out of your way and download it with Windows Live Essentials.
AeroShake. Arguably, AeroPeek and AeroSnap are useful, but AeroShake simply hides all background windows when you "shake" a foreground window. This often happens to me by mistake, and I find it irritating. It can be disabled, but it's too technical for your average user. Moreover, why are these features OS specific? They could easily be appended to Vista, but Microsoft chooses to make them 7-only, as if they are a reason to "upgrade" your operating system (kinda like Siri on the 4S).
More importantly, sortable column headings only appear in Details view, now. There is no way to change this back.
The bottom line is: where's the upgrade? All I am seeing here are minor changes, missing features, screwed up search, bugs that never get fixed, and other annoyances. Why on earth is this operating system still being priased so much over Vista?
I'd like to see 7 reasons why Windows 7 is an improvement over Vista (SP2).
admin@variableghz.com